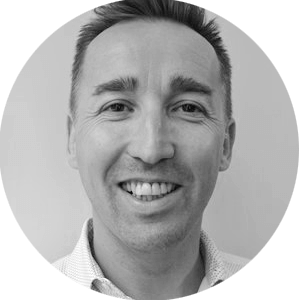 Robert
Chief Talent Officer
I've worked within the recruitment and events sector for over 17 years and I've gained some much-needed perspective when evaluating how to solve a client's hiring problems.
Having explored the world of hiring from all angles – namely as a candidate, a client and a recruiter I have managed to develop a maturity to my offering that you may find a refreshing change to the myopia offered by agency recruiters who have experienced little professionally outside of their own telesales cubicle.
As you've probably guessed, we like to work a bit differently. Some of this comes from a desire to ensure any potential candidate we speak to is about to embark on the career they've always needed but didn't know they wanted. I've been in Director level positions long enough to know the chemistry with the rest of the senior team is as important as what skills, ability and experience a potential new hire has.
My previous careers have taken me all over the world and although there are changes in the way business is carried out, there is one thing that stays the same; people like working with people they get on with.
I'd wanted to run my own recruitment business – a desire fuelled in equal measures by a fascination and frustration with the way typical recruitment services are both delivered by the supplier and perceived by both candidates and hiring companies.  It took me a while to work out how I might offer something different from the usual traffic management practise of plugging live roles with active candidates.
I had seen too many people trying to apply their skills in the wrong environment and, encouraged by the perceived wisdom that companies should "hire for culture fit and train skills", built what we now call our 'Fitability®' recruitment service.
If you want to work with a recruiter who will not only do the arduous hard yards of searching for potential new hires, but also be diligent in assessing those who will be the best fit as a future senior colleague in your business, then maybe we should have an exploratory chat? The worst that could happen is it will put your other recruitment agency suppliers into some kind of perspective.
Sidonie
Chief People Officer
In a previous role, when being the gatekeeper to decision-makers was one of my hats, I always enjoyed the relationships I fostered with my agency partners.
The hiring team internally worked well with them and we were pretty successful. After we decided to set up YOU search & select, I analysed all my previous interactions and noticed one thing; we had to do an awful lot of work through the decision-making process.
Although we had a CV and sometimes an in-depth overview, it was mostly down to us as the employer to garner information and an insight into whether the candidate was a good fit for our team, our culture and our business.
Robert and I felt this was probably the most fundamental aspect of what was wrong with the service external recruitment suppliers offered and set about ensuring we would help employers to make informed decisions and focus their interviewing on the person rather than the generic list of skills and experience that were 'must-haves' for the role.
My own background of 15+ years within HR enables me to think objectively, reflect in advance of business-critical decision-making and overall ensure that we truly have something useful to offer. I've worked across different sectors and functions and still believe in the same principles now as I did when working client-side; that people are the most important part of a company and without them, there is no business.
One of my favourite anecdotes that reflects this is the following;
CFO to CEO: "What happens if we invest in developing our people and then they leave us?"
CEO to CFO: "What happens if we don't and they stay?"
We feel that staff development starts with hiring the right people in the first place. This is why we developed our 'Fitability' approach to recruitment.
© YOU search & select Ltd.
Registered in England and Wales No. 10010992
Download a PDF overview of our service