Fitability

®


Talent program
We don't 'fill a gap', we use expert profiling and selection techniques to match a candidates ambitions and goals to your company's growth plan.
REQUEST A CALL
We match people with people, as well as skills and experience.
We don't throw "shit at a wall"
So many recruitment agencies say they do things differently, but they don't. The pressure is on to make targets and get as many placements as possible to nab that commission before retreating behind the safety net of their sliding scale rebate scheme or free replacement backup plan.  What was pitched to you as a 'bespoke interview' process actually translates to a quick email a call and a 'gut feeling' that leads to them see what sticks and hoping for the best. They don't:
Conduct a behavioural profile
Write custom job descriptions
Create bespoke role profiles
Actually get to know the candidate
Conduct expert profiling
Interview specifically for the role
Transcribe the full interview
We do. That's why we guarantee all of our placements with a 100% rebate scheme for 6 months.
It's in our interest to improve employee retention
The average employee exit costs 33% of their annual salary, when you consider the average senior level UK salary of £40-£70k per annum, that means you could be losing up to £23k if you hire the wrong person.
By offering a full refund on our search fee, it's in our interest to improve your employee retention. That's why we don't just select the best of the bunch from a job board search, we match candidates professional goals, personality and personal aspirations to your companies growth plan. These things may seem like a 'nice to have' but they are important markers that can impact employee retention. Co-founder and Chief Talent Officer of YOU Robert Kenward explains: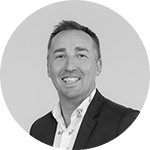 "Senior level job seekers in particular are very good at getting the job in an interview, which can be misleading. They say the right things and nod at the right moment, but often they're not thinking long-term. Chances are you're right for them 'right now' because you were the first decent opportunity to fall into their lap. 'Fit' is a long-term strategy and employee attrition comes at a higher cost for senior level roles, so why take the risk? Making decisions based on a CV and a couple of meetings is just not good enough, that's why we've taken the time to develop our custom talent assessment program and expert profiling process, Fitability®."
Every step of the program leads us closer towards the right candidate for the job who engages with the brand on a level that will nurture a long-term commitment. The result? You get to reduce your employee turnover and we get to keep our well-earned search fee – it's a win win really.
Success stories: making the impossible, possible
We can spread our peacock feathers all we want, but nothing quite proves the value of our talent program than hearing from people that have experienced it. Listen to them, not us.
"Having worked with a number of recruitment specialists in the past it has been refreshing to meet Robert and see how recruitment should be undertaken. It is rare to find someone who takes the time to understand you not only as a professional but also as an individual."
Sales Director
"The antithesis of the "one-click" application, Robert provides a refreshing alternative to the faceless recruitment model. I've appreciated the time Robert has spent in getting to know me, in painting a more detailed picture of the company in question, the role, and what they're looking for, as well as his open and transparent approach."
Business Director
"When I started working with Robert a few months back, I was a bit unsure of his somewhat unconventional approach to senior level recruitment. I soon realised that what was masquerading as 'unconventional' was actually thoroughness, rigour and a deep commitment to on-point professional matchmaking.
Board Director
Square pegs, round holes, right?
Like any relationship, people can grow apart but if you have shared values and a similar vision of the future it's much more likely to last. Fitability is about matching a candidate's personal career aspirations with your business growth. It's about understanding what the future of the business looks like and whether a potential candidate truly fits within that vision.
Fitability® is about getting to the route of what makes them tick and finding the person who will:
Meet your expectations for the role
Exceed those expectations with added value
Fit in with the team and company culture
Enjoy working for you long-term
Share common values and help the business grow
We're not interested in shoving square pegs in round holes and if we were planning to dupe you into hiring someone that wasn't the right match then we wouldn't offer a 100% rebate for 6 months.
Now for the clever bit…
Okay so it's nothing earth shattering, more like just doing a bloody good job every time, all the time.
We initially screen potential candidates against a Job Description and role profile document we have created especially for you following an in-depth briefing session (not just scrolling through your website or working off a JD). What next? Use the form to download our fitability guide and find out.
Our recruitment and selection program for senior-level employees forms the backbone of our Fitability® program and also allows us peace of mind to offer our unrivalled 6 month 100% rebate scheme.
Unlike any other talent assessment process
The Fitability® process isn't a quick fix, it takes between two and three weeks to find the right talent. The process is two-fold:
We source and shortlist the right talent that aligns with your business growth plan
We provide you with what you need to make an informed decision.
This includes an orientation session with the business to really understand your goals, a face-to-face in depth interview transcription with potential candidates and any relevant data on their suitability to minimise risk.
Let us make your life easier
Now you know that we have the tools and expertise to do the job, all that remains is to let us do our thing. Book a call now to get started or use the form to download our fitability guide and find out more.
© YOU search & select Ltd.
Registered in England and Wales No. 10010992
Download a PDF overview of our service