Specialist Event Recruitment
The only c-level event recruitment consultancy with senior level experience in recruitment, live events, experiential and MICE sectors.
REQUEST A CALL
Too many specialists, not enough #eventprofs
YOU Search and Select are a renowned independent executive search consultancy specialising in the live events sector, experiential and MICE industries. We are passionate about delivering soft-touch high-touch executive search. By that, we mean actually interview for the specific role and truly getting to know potential candidates – not just register them. Beyond the job criteria, we go further to discover "soft" attributes like values, culture and personality to ensure they are the right fit long-term, not a quick win.
60% of the job you're trying to fill is the same as every other agency in your sector, 40% is the key difference. That's where we come in. We do this with our unique Fitability® program that enables us to match the career aspirations and ambitions of candidates with your business goals and growth plan. Part of the program is to complete a behavioural assessment, which we thought you might like to try! Click here to give it a go.
From one c-level event professional to another
YOU Co-founder and Chief Talent Officer Robert Kenward has worked within the Live Events, Experiential Marketing and Recruitment sectors for over 20 years and running his consultancy for over 4 not only demonstrates credibility, but relevant experience too. This gives him direct insight into the industry and enables him to tap into a huge network to deliver unrivalled high-touch executive search. The events industry is unique in many ways and requires a different approach when it comes to executive search and c-level recruitment, Robert explains: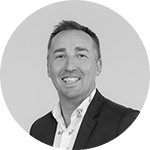 "It's a £50 billion sector but live events, experiential and MICE in particular are often viewed as largely "fluffy" or "party planning". The truth is it's actually a hugely diverse industry with so many moving parts and finite timescales to projects that can't be moved. It's crazy and fast-paced but also rewarding and community-spirited. Personally, I believe that any recruiter who hasn't worked in the events sector can't call themselves a specialist."
Improving employee retention for the events sector
50% of UK employers in large businesses are struggling to fill jobs due to a lack of qualified talent. The majority of the remaining 50% are likely struggling to keep them, even more so in the events sector. Events has the highest turnover rate in the UK (17.7%) because employees tend to take on exciting projects, add them to their portfolio and move on.
Through our Fitability® program we are able to reduce turnover, in fact, we are so confident we will find you the right match long-term we offer a 100% rebate for 6 months. Beyond that time period? That's down to you, we'll send you the right people, but it's up to you to nurture, develop and challenge them. According to research, employee retention should include:
Good working environment
Reasonable pay and workloads
Sound supervision and development opportunities
Flexible working
"He has given me some really good advice on updating my CV and Linkedin profile, and I came away with a much clearer plan for my next steps."
Events Manager (October 2020)
"Robert has kindly taken valuable time out of his days to provide not only me but 100's of others with open and honest advice and reassurance."
Event Producer (October 2020)
"Robert recently gave up his valuable time to provide me with a 1-2-1 consultation, where he provided me with some invaluable advice on how to strengthen my LinkedIn Profile and CV and really encouraged me to highlight my strengths and experience."
Director (October 2020)
"At a very uncertain time, when I have been questioning what to do next, he helped to give me a new sense of focus, control and ownership of my career which is exactly what I needed."
Event Producer (October 2020)
"His honesty helped me to relook at my approach to prospective recruitment opportunities and see things from a different perspective to make some progressive changes."
Technical Director (October 2020)
© YOU search & select Ltd.
Registered in England and Wales No. 10010992
Download a PDF overview of our service