6 month 100% Rebate Scheme
We are so confident in our search and select approach we guarantee candidates are not only right for you, you are right for them.
REQUEST A CALL
Let's not mass debate about rebate
The cookie-cutter recruiter approach is a four week 100% rebate, which then works on a sliding scale until it reaches zero by week eight. To us, offering a sliding scale or a free replacement is preparing to fail.
We know our custom profiling approach works and that's why we guarantee a candidate match with our 100% rebate scheme for 6 months. It's a controversial approach that often gets other recruiters backs up and so be it! We know our search and select process works and we know we do a great job.
If you think of it that way – why wouldn't we offer a guarantee?
It takes talent to deliver exceptional talent
YOU Co-founder and Chief Talent Officer Robert Kenward has been helping agencies attract and retain exceptional talent for more than 17 years and worked in the live events, experiential and MICE sectors at senior director level for 6 years. Along the way Robert's explored the world of executive search from all angles – namely as a candidate, a client and a recruiter. As a result, he's developed a maturity to YOU's offering that many people find refreshing, Robert explains: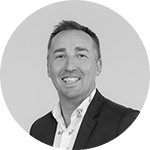 "Recruitment isn't hard, it's just really hard work. Too many people think they can be a recruiter and that placing a high number of candidates equals success. Just find a candidate that wants the job right? Wrong. The wrong people easily screw up because finding talent that is the right fit for the job isn't enough, they need to fit the culture and hold shared values and qualities that will lead them to remain with the business long-term."
What makes us different?
Robert's senior level experience in the live events, experiential and MICE industries puts YOU Search and Select in a unique position. In fact, we're the only consultancy that specialises in both C-level recruitment and events with hands-on experience in both. Most importantly, while many recruiters think one call, email or registration is enough to establish whether someone is the right 'fit', we believe in a high-touch soft-touch and personalised approach. This is why we have a tailored approach to search and selection and take the time to truly understand candidate's leadership and personality traits through our Fitability® program and BPS accredited profiling platform.
Our job isn't to fill your vacancy…
It's to match your needs. To understand your business and your talent needs and find the best person overall – not the 'they'll do' match at that time. We have taken the time to create an unrivalled bespoke search and selection process that makes your life easier.
Nerdy stat alert!
Employees who are "engaged and thriving" are 59% less likely to look for a job with a different organization in the next 12 months. When you consider that the average employee exit costs 33% of their annual salary, it makes sense to make the right hire in the first place.
We conduct meticulous research to establish whether they're seeking a career change motivated by ambition over financial reward. The time and effort we invest in forming a relationship with them makes us confident we are submitting the appropriate candidate.
When you partner with us you're working with professionals who add value to your business, who know how to match the right people to the right opportunity and can back up that claim with a history of hitting the mark.
How does it work?
Quite simply, if a candidate we place with you proves not to be the correct match and leaves your company within a 6-month period, we will refund the search fee. It hasn't happened yet mind, so if it does we will also lock ourselves in a dark room and chalk the walls until we find out what went wrong.
What's the catch?
There must be one right? We're recruiters. We're bound to worm out of it somehow. But there isn't. We see it as an investment, a point of difference. We can confidently say there are no other recruiters offering this level of guarantee.
So, ask yourself – why can't your provider match this confidence? You know the answer, request a call now or get in touch to find out more.
© YOU search & select Ltd.
Registered in England and Wales No. 10010992
Download a PDF overview of our service